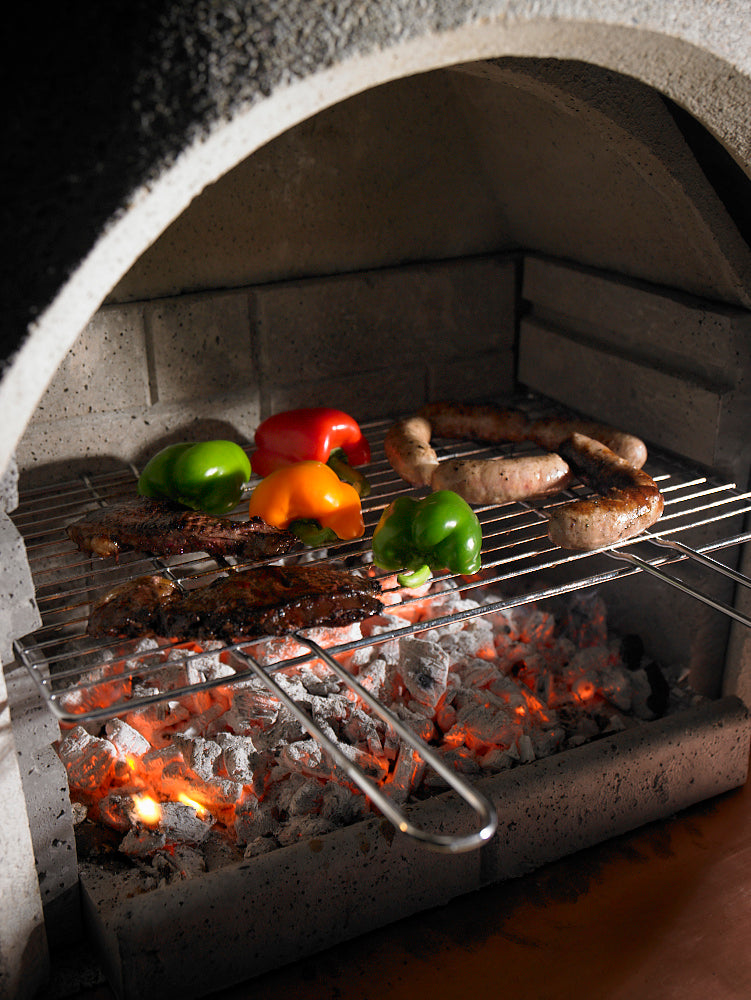 5 Reasons why the Buschbeck is Boss for BBQing
The Buschbeck is probably best known for being an outdoor fireplace and pizza oven, but its talents as a BBQ are equally as impressive. The Masonry BBQ offers many advantages over your classic gas guzzling snag scorcher.
Here's 5 reasons why:
Cook over wood or charcoal
Gas = no flavour + no skill + no fun! Cooking over wood/charcoal gives a delicious smokey flavour to your food, and there's something oddly satisfying about getting it lit and building up the perfect bed of embers. There's truly a craft to it.
Wide range of BBQing accessories
The Buschbeck comes standard with a chrome plated grill, but there are several upgrade options available. The Heavy Duty Cast Iron Grill rack will give your steaks those perfect sear marks, while the Cast Iron Hotplate is dynamite for frying up eggs for brekkie. Prefer to take it slow? Slide in the rotisserie insert and slow-roast that chook for Sunday night dinner. 
Easy Clean
Unlike some BBQs, the Buschbeck isn't full of fragile parts, and doesn't have loads of nooks and crannies where grease and grime collect. So once you're done just give it a scrub and a spray with the hose. Or should you need to be a bit tidier with your clean up, all the cooking surfaces slide out for cleaning in the sink. Ash removal is easy thanks to the removable firebox base. But if you want it to be super easy, grab yourself the stainless steel fire grate and ash pan. 
Low Maintenance
When you whip off the cover for the first BBQ of Summer it usually involves a good few hours of shooing away roaches, evacuating spider nests, and sterilising the fungal colony that has risen from the trace elements of the last BBQ of last Summer. But not with the Buschbeck. Because it works as an outdoor fireplace too you'll be using it year round! No idle time for those creepy crawlies and micro-organisms to make themselves at home. 
Long Lasting
While your standard steel gas BBQ will give you 5-6 years of service (and that's being generous), the Buschbeck will be a feature in your backyard for many years to come. In Europe it is common to see Buschbecks that are over 20 years old! And that's 20 full years of service, not just 20 summers! Imagine all the pizzas you could cook, marshmallows you could toast, and chicken you could char-grill! 
This is just 5 reasons why the Buschbeck is great for BBQing, there are plenty of other reasons why a Buschbeck deserves a spot in your backyard.
So check out the range and get yours today!