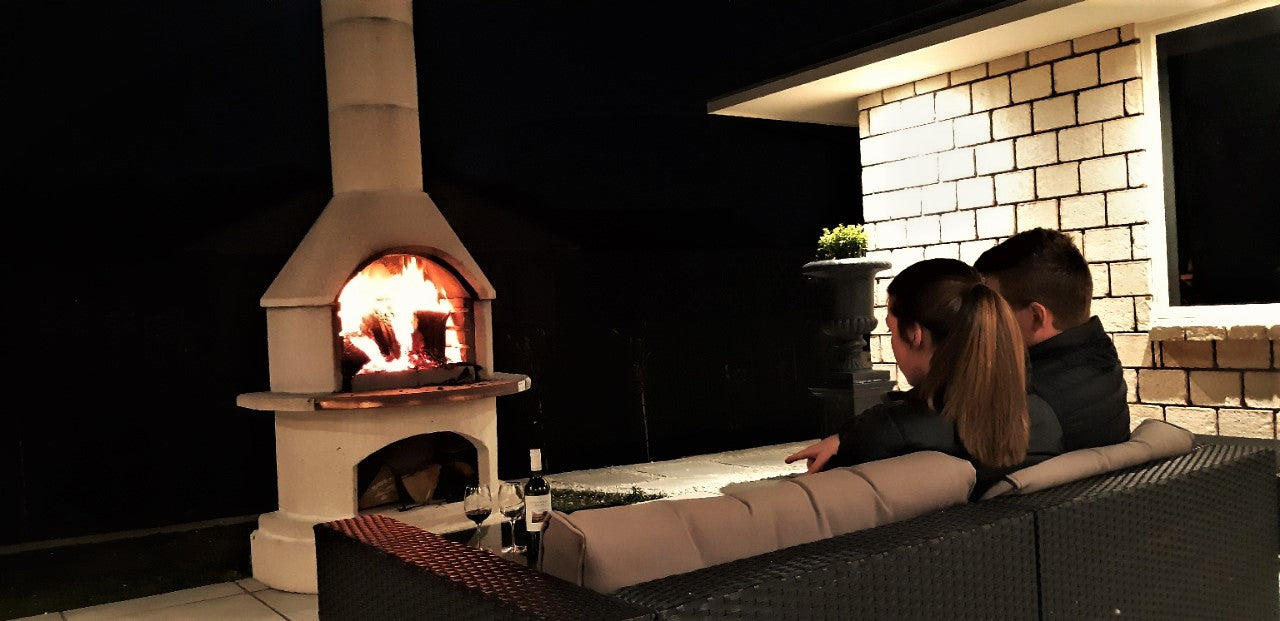 Choosing Your Outdoor Fireplace Style | Buschbeck
If you've ever been in a garden with an outdoor fireplace, then you know how much it does for the space. Warm and inviting, these fixtures are a perfect centrepiece for any social gathering. If you're the type to entertain often, or if you just want a great night-time spot for you and the family to relax, then it's time for you to consider installing one of our beautifully constructed, easy-assemble fireplaces.
What is a Buschbeck Outdoor Fireplace?
'Outdoor fireplace' is really only one of many names we could use, primarily because they have so many different uses, accessible via our fireplace accessories.
 Each model from our range functions simultaneously as a fireplace, gas grill, charcoal BBQ, and woodfire pizza oven all rolled into one stylish package. The Buschbeck is constructed with a "twin-skin" system to create a thermal barrier, with the refractory inner skin absorbing most of the heat. The resulting air circulation creates an excellently insulated, multi-functional design that stays cool to the touch.
 The only limitations you will encounter will be how many neighbours suddenly start knocking on your door, waiting to be treated to dinner and a warm fire.
But How Do They Look?
Of course, when choosing a fixture for your garden the appearance will be of concern. Rest assured, your options with Buschbeck are many and varied, and each one is beautifully finished.
 Rondo and Rondo Grey
Beginning with our classic rounded silhouette and flat-top chimney, the Rondo models are an easy way to add a modern minimalist touch to your back garden or courtyard. We've constructed them using polished white quartz, which has the dual purpose of making either one a deliberate aesthetic choice as well as an instalment that will last the years.
Elba     
The Elba is an elegant take on our Buschbeck original, incorporating a stainless-steel insert on the white quartz mantelpiece. If you're looking for something simplistic, clean, and timeless, then this is the option for you.
 Ambiente
For this iteration, we replaced the standard stainless steel and quartz ringed countertop with a 2-inch thick solid granite mantelpiece. The dark grey of the mantelpiece adds interest and a polished finish, while the arched chimney has a touch of European style.
 St Moritz
The focus of the St Moritz model was rustic elegance, and the two-toned quartz combined with a real copper mantelpiece insert delivers extraordinarily. This model also has the arched chimney from the Ambiente, increasing the interest of this particular fixture in your garden. If you're aiming for a dignified, picturesque option, then look no further than the St Moritz.
 Designed to last
Here at Buschbeck we are dedicated to demonstrating quality in both design and functionality. Each Buschbeck fireplace comes with a two-year warranty, and the white-quartz construction ensures strength that will last.
 Looking for a new garden accessory that offers well-crafted excellence, and ensures your home will be the bright spot of the neighbourhood for years to come? Choose from our elite range of German design-standard fireplaces. Don't hesitate to contact us if you have any questions, we're standing by to help.